Category Archives:
Uncategorized
3D printed replacement eye protectors for the Super Scope are now available in my eBay listings.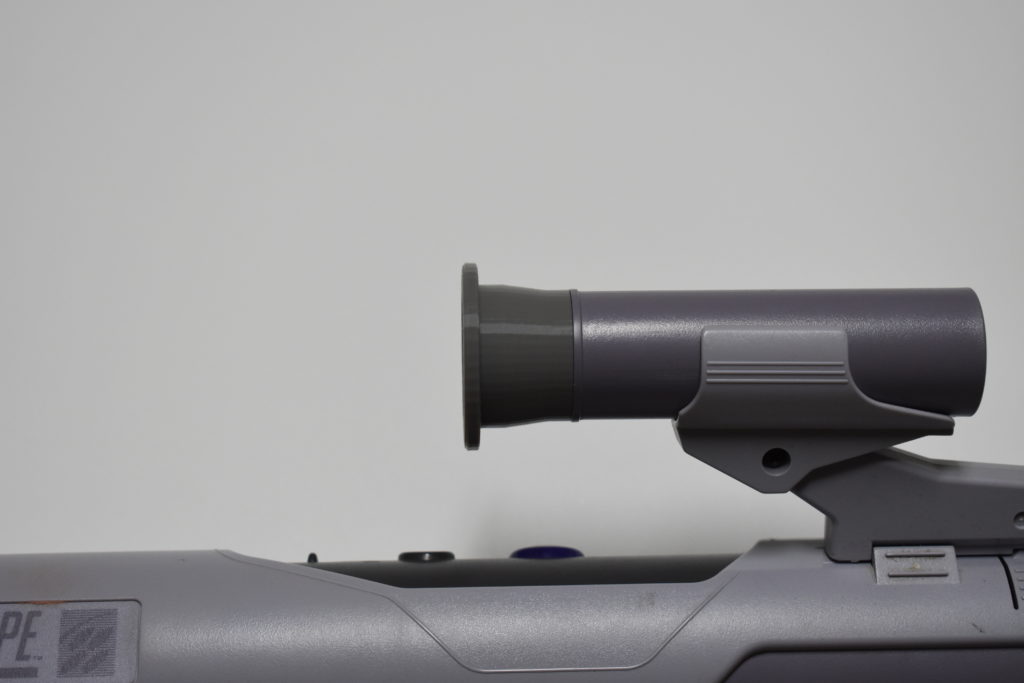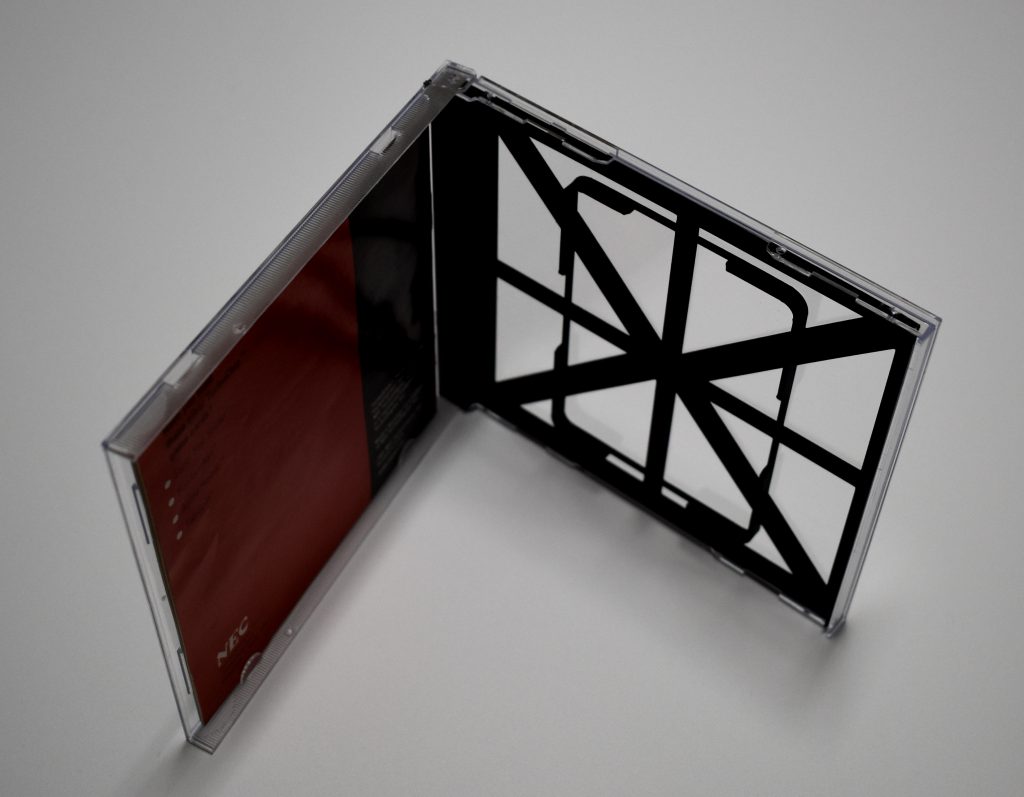 They've been a while coming but are finally here! I now sell replacement trays for TurboGrafx-16 and PC Engine games. These are designed to fit in a standard jewel case and allow you to store your games as you would in their original cases. You can even print art for the back to simulate the original spine sticker and fit it underneath the tray. Check them out in my eBay items for sale.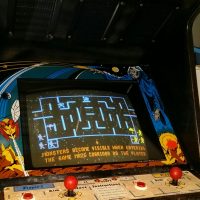 I have been working on a Wizard of Wor machine that wouldn't start. The only thing I got was a vaguely green screen and a buzzing speaker. I began by removing the socketed chips one at a time and cleaning them with a high quality plastic eraser and a Dremel wire brush when the tarnish was too heavy. After this I sprayed Deoxit into all of the sockets and reseated the chips several times each.
I checked the power supply and found that there was no voltage on the +12v line. If all voltages are not present, the supply will not send the 5v "power good" signal and the game will not boot. My first thought was to replace all the capacitors on the power supply since they are at least 37 years old at this point. However, I still didn't get any change. I also tried changing out the variable regulator that controls the 12v to no avail.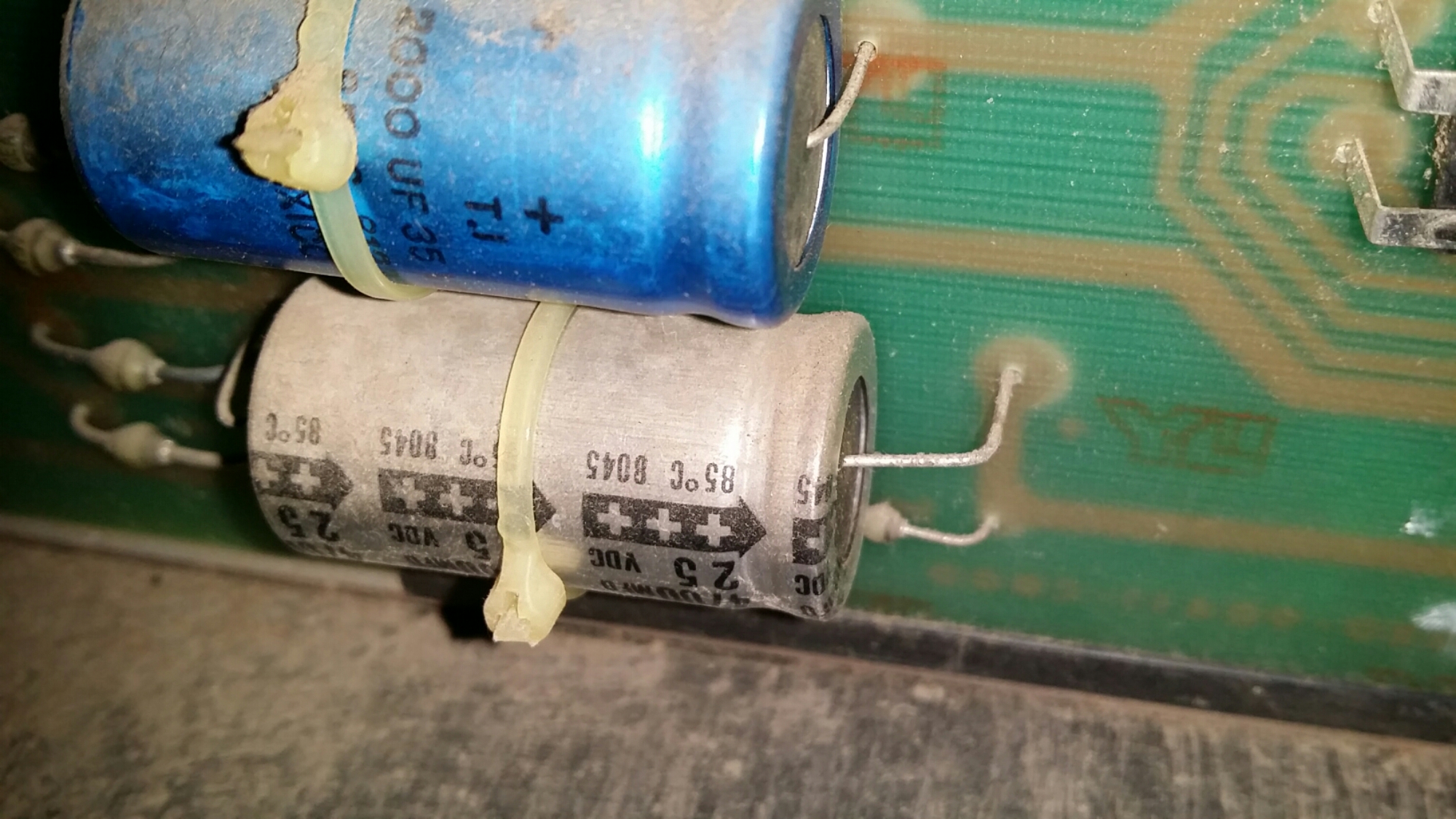 It was suggested to me that the small tantalum capacitors on each of the 6 game PCBs are known to short out. While I was testing another point on the power supply, one of these capacitors on one of the game's two RAM boards exploded, so I went ahead and replaced them all with these. After that the game booted!
However, the display was completely scrambled. Another tip I got was to adjust the horizontal frequency control deep in the recesses of the monitor chassis. Turning it all the way up, I was finally able to get a steady picture, but it was a bit unevenly projected, most likely due to old capacitors. There were also two sets of vertical yellow lines at even intervals across the screen. The cause of this turned out to be some bad RAM chips.
To test the RAM chips, I burned Mark Spaeth's excellent GORF test ROM since Wizard of Wor uses the same hardware. I had to create an adapter to burn it onto a 2532 EPROM because my programmer isn't compatible with them out of the box.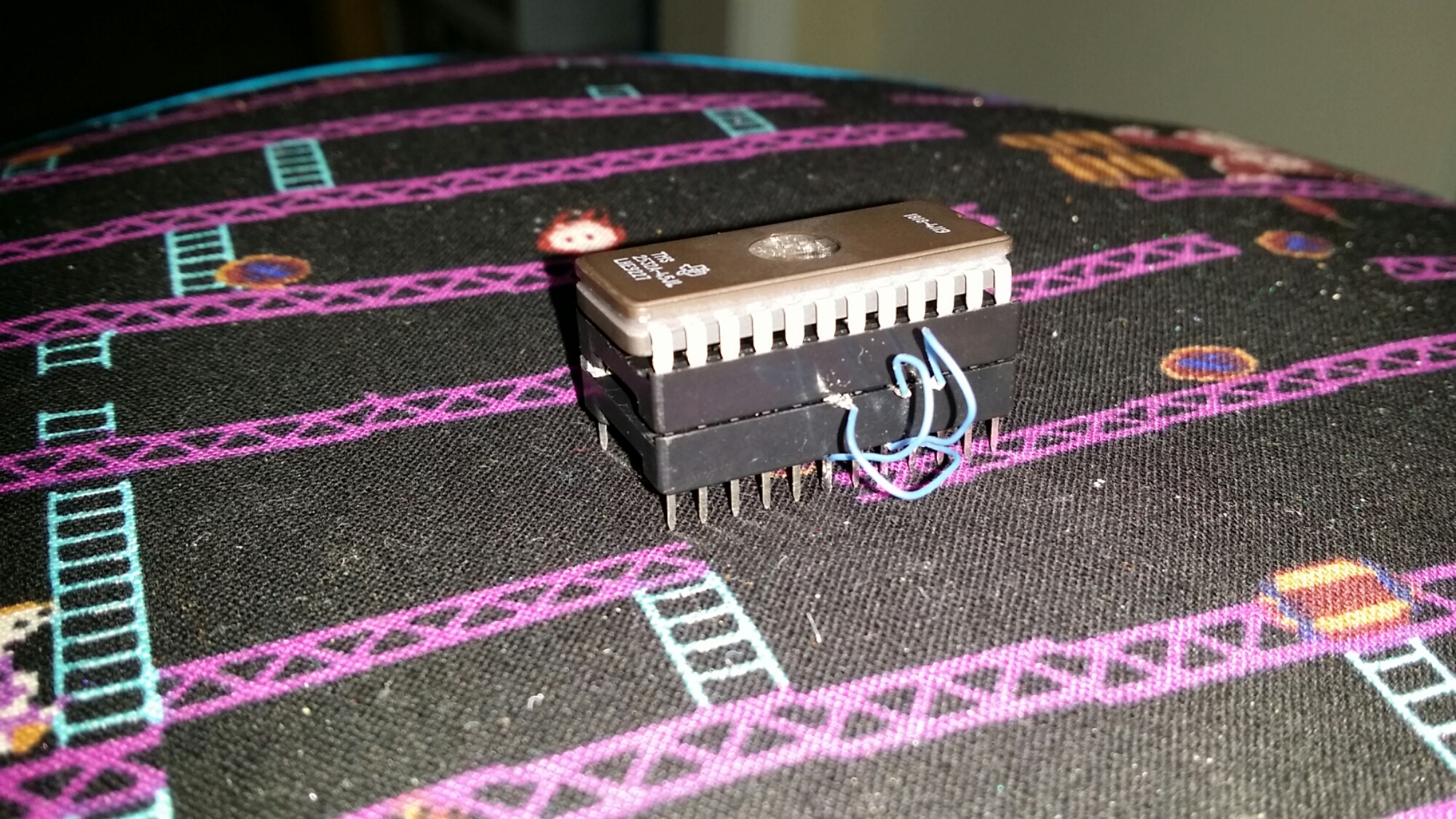 I also had to bend a pin out and wire a jumper in place so it would not be damaged by the ROM board (which still uses the original mask ROMs.) I found this information in the readme file for an earlier Wizard of Wor test program, WOWMD.
After finally getting the chip on the board, I was able to test the RAM.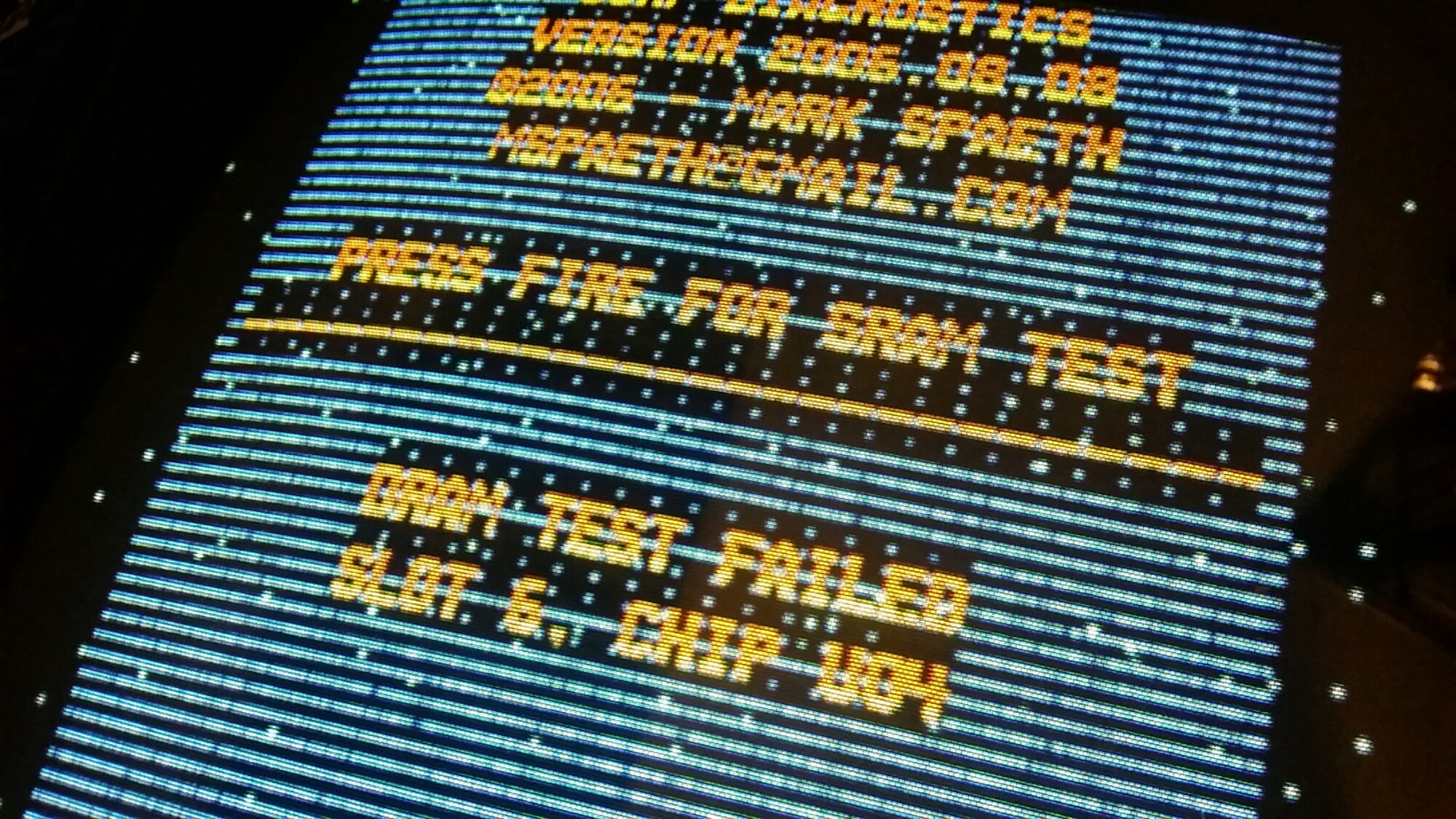 I ended up having two bad RAM chips on the board with the capacitor that exploded.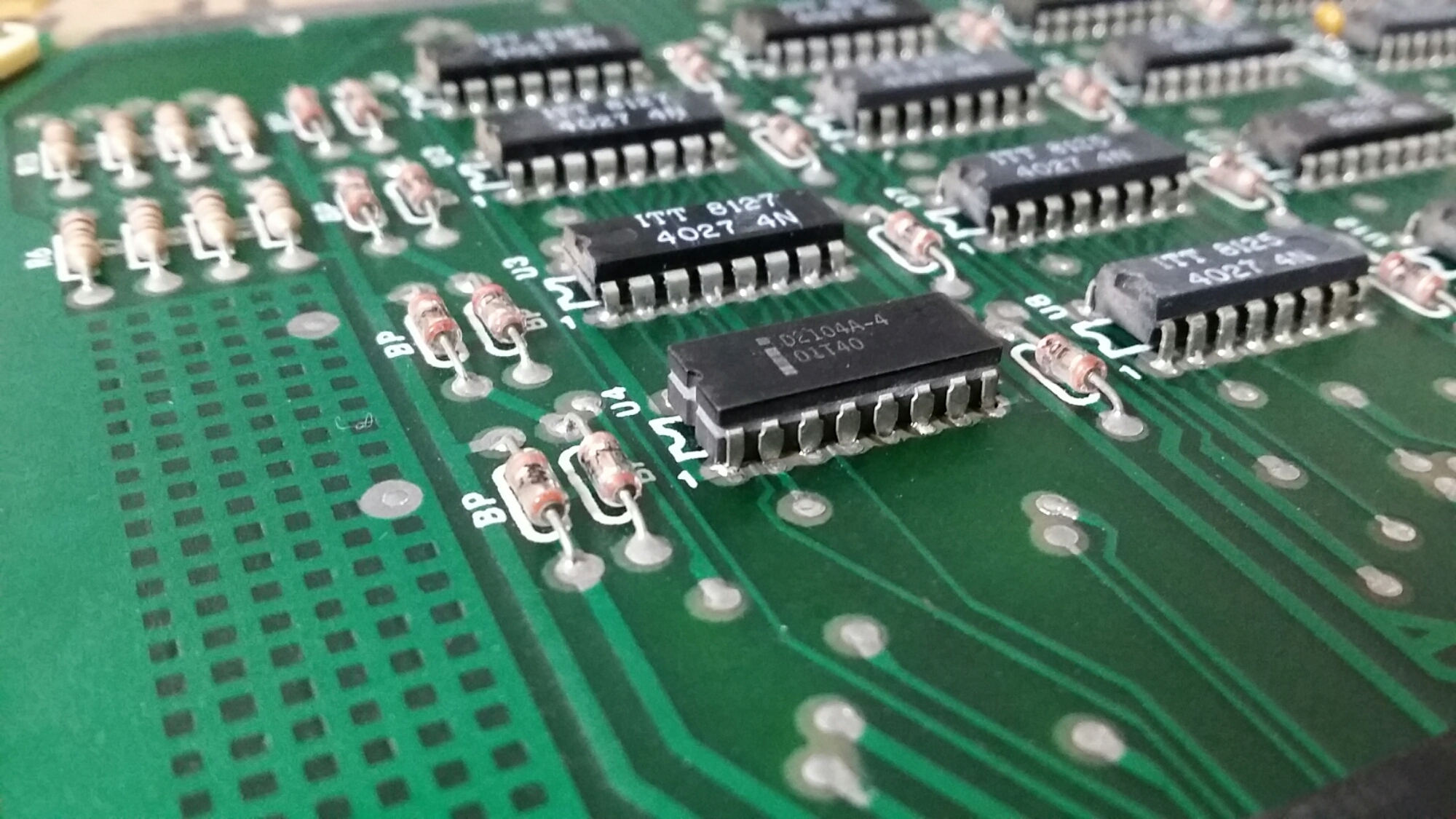 I replaced the original 4027 chips with 2104 RAM, which is a drop-in replacement.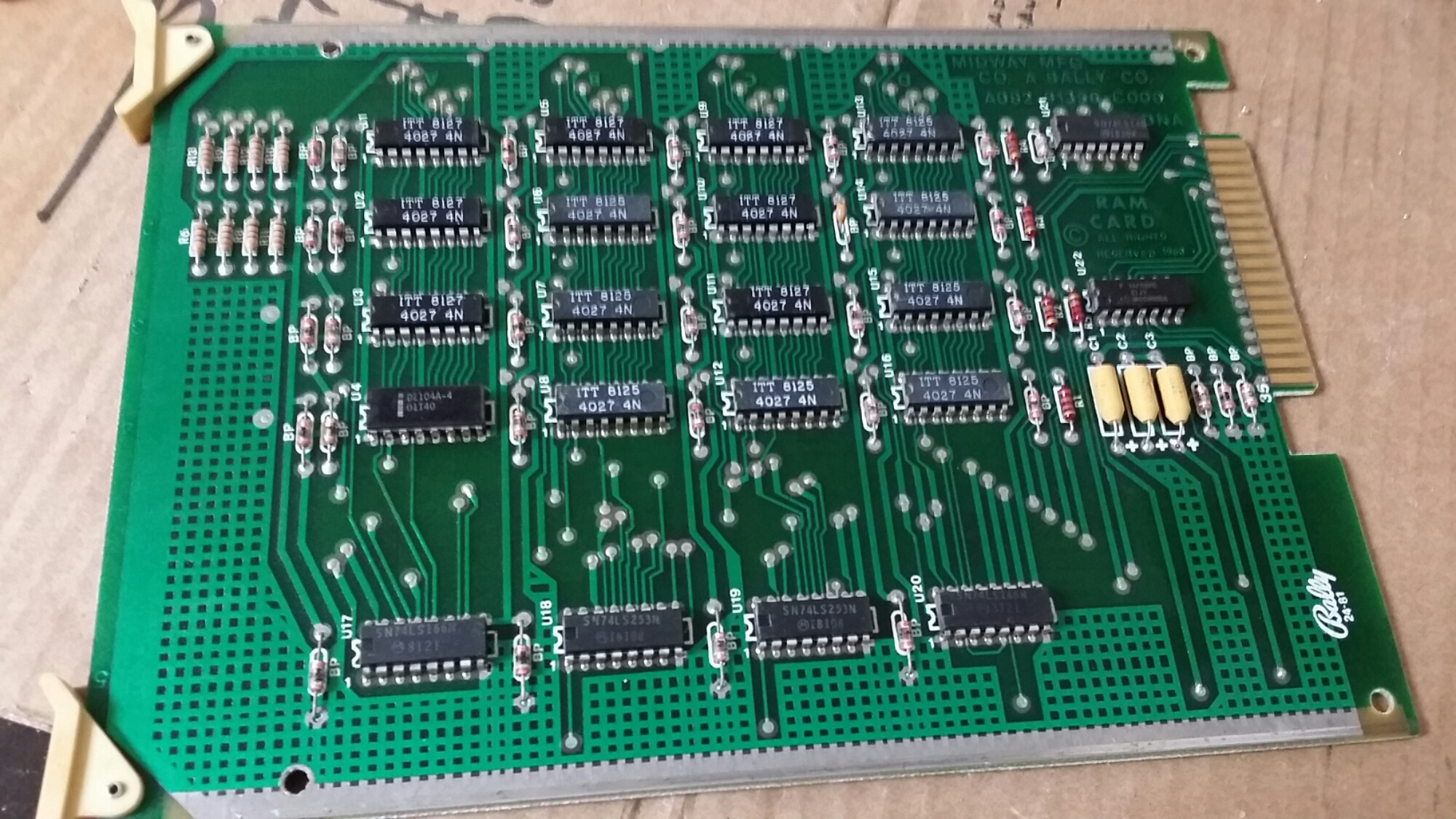 Now the game is up and running. I need to replace the capacitors on the monitor to correct some display geometry issues, and that's it. I'm also planning to put heatsinks on the game's special Astrocade chips since those are known to sizzle, and without them we'd have a dead game on our hands. Since the originals heatsinks that Midway used are pretty hard to come by now, I found some alternatives I think will work nicely for about 50 cents each.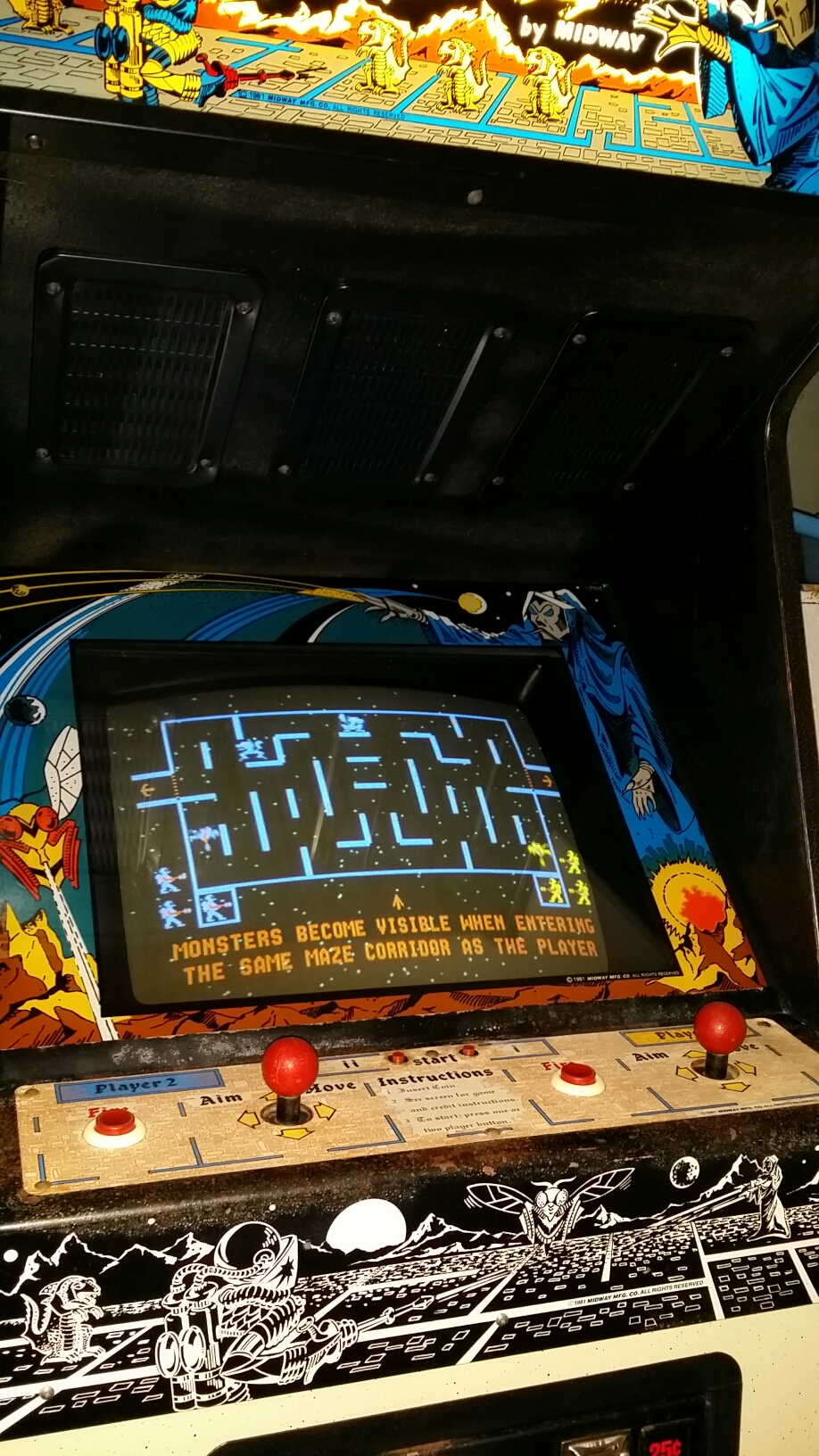 I've been doing a lot of work recently getting a Mario Bros. arcade machine back into working shape. Pretty much everything that commonly goes wrong with this game had happened. The monitor's capacitors were dying, the sound didn't work, the internals were covered in a thick layer of black dust, the list goes on. Here is a rundown of my efforts.
The most noticeable problem was the washed-out picture, with bars of light across the screen whenever something was drawn. I picked up a capacitor kit from Ian Kellogg to replace them with. The monitor that comes standard on pretty much every Nintendo cab is a Sanyo 20-EZ. It has quite a few caps to replace. It's probably not strictly necessary to replace them all, but with 30+ year old caps that have rubber seals, it's definitely a good idea. The cap kit also comes with those necessary to rebuild the sound amplifier.
Something that happens a lot is that people either accidentally or ignorantly remove the grounding pin from their AC plugs. Since a lot of arcades in the 80s probably didn't have wiring that was up to code, a lot of outlets just had 2 prongs. I'm sure many people didn't understand the importance of grounding to keep from being shocked or overheating your equipment. I went and got a replacement plug for about $2.
When I got this to my garage, the last person that worked on it hadn't closed both control panel latches.
This cabinet used to be a Donkey Kong Jr. machine, but at some point in the distant past, it was converted into Mario Bros. This cab is thinner than the dedicated Mario Bros. cabs (which are black in front and generally referred to as "wide body"). When Donkey Kong Jr. stopped making money, an arcade operator could call Nintendo, and a tech would come out with a conversion kit (or "
Nintendo-Pak
") and perform the conversion. On this cab, they left the original DK Jr. serial number plate and put the Mario Bros. plate to the left.
It seemed wasteful to me to try to get a new control panel, so I went to find matching tape to reinforce the vinyl overlay. It cracks at the bottom because there's no adhesive keeping it stuck to the sheet metal at that point. The green Duck Tape is almost a perfect match, while the blue is lighter, but it gets the job done.
At this point I also removed all the nuts and bolts, cleaned the control panel, and disassembled the joysticks. I cleaned them out using lighter fluid to remove the old black caked on lubricant grease, and I just used some Super Lube machine oil to get them moving smoothly again. People also use dry silicone spray lubricant or new grease, but the oil is holding up fine for me so far.
Another problem to fix was that the sound wasn't working properly. The only sounds were those of Mario and Luigi walking, which are actually created by an analog circuit. The rest of the sounds are generated digitally through an M58715 custom chip. These are hard to come by these days but it's possible to replace it with an 8039 MPU, tying pin 7 on that chip high. I got one from
Twisty Wrist Arcade
. At this point it also becomes necessary to burn a new sound ROM because Nintendo's instructions to the original custom chip are slightly different. I got a 2732 EPROM and burned the patched ROM to it. These chips were socketed on the board which made this part extremely easy.
Next thing I got done was the monitor. Removing the front plex I was greeted with an endless sea of dust. Removing the monitor from the cab isn't the easiest task in the world, and some people prefer working on them while still in the cab. There wasn't enough room or light for me to try that, so out it came. I disassembled the monitor and dusted everything off, and began replacing the caps. It took about an hour to get them all replaced once I had everything taken apart.
I always like to see old PCBs where the traces were designed by people. It gives an organic feel to an inorganic medium.
I really can't even convey how much better the monitor looks after getting recapped. With all the adjustments done it looks practically brand new. I think these photos were from before I cleaned the front plex as well.
Speaking of cleaning the front plex, since it's not glass, you do have to be really careful not to scratch it. I used a microfiber cloth with some CD cleaning spray on mine, although some people do like to use Novus 1 plastic polish or something similar.
Last was the marquee light. The old light was long gone, replaced by one that was much too long to fit, but was mysteriously left in the cabinet anyway. The starter also looked shot, so I had to find both. The original bulb, a 10-watt FL10D, is designed for the 100-volt Japanese fixture and is somewhat hard to find. Likewise, the starter, an FG-7E, wasn't in stock at my local supplier. However, a standard F10T8 bulb seems to work fine. I ended up using an FG-1E starter which has the same size screw base and is compatible with 10-watt bulbs.
I also carefully removed a lot of gunk from the cab with lighter fluid and a razor blade. It looks much cleaner and nicer than before and I'm very happy with how it's turning out.
There were creatures with slightly bulbous heads and black eyes with red outlines. If they touched you, you froze in place forever or became one of them. They weren't quite like zombies but kind of reminded me of them.
Somehow I and some people I knew had been captured and put in a place that was like real life but I got the distinct impression that I was asleep. There were giant red letters in the sky warning us of the fakeness of our environment, but the end of the message was garbled and only a few new letters were added every day. Some people in the building where I was kept had figured out how to trick the drink machines into giving out more than water. I was trying to figure out how to manipulate the machines as well but I was suddenly outside, watching a Jeep tow another car with a chain. However the Jeep jumped the median and went against the flow of traffic, while the towed car was still in the right lane. They came up on a light pole and collided due to the chain.
I was back in the "real world" because we had to get supplies at a really dark and creepy grocery store. An epiphany suddenly came: Maybe the sleeping people were all these pop bottles moving around on a conveyor/sorter thing I saw! Not knowing how to free the sleeping pop people I went with the rest of my party and exited the store, always mindful that if one of those red eye creatures touched me, I was toast forever. In our hotel room we pondered how to escape.
I couldn't find a whole lot of information on this. My HDTV (a Magnavox 37MF331D) had developed the nasty problem of not turning on when the power button was pushed. The power LED would flash green for a while and then go back off. I had to try turning it on several times before it would finally come on. This seems to be a common problem affecting a lot of HDTVs; it's not even a brand-specific problem.
After much research, I determined that my problem was blown capacitors on the power board. By repeatedly turning it on, they gradually got warm enough to hold a sufficient charge to let the TV turn on. There still wasn't much information about how to actually fix the problem, aside from a couple of YouTube videos that show you approximately where the affected board is inside the unit. So, I figured I would share what I learned. There are 4 capacitors that should be replaced (two of mine were showing damage but since they're all the same brand it's probably good to change them all out). I guess TV companies just like to spring for the cheapest components they can find. There's also a larger capacitor further down the board, but that usually doesn't need to be replaced.
This is what my blown caps looked like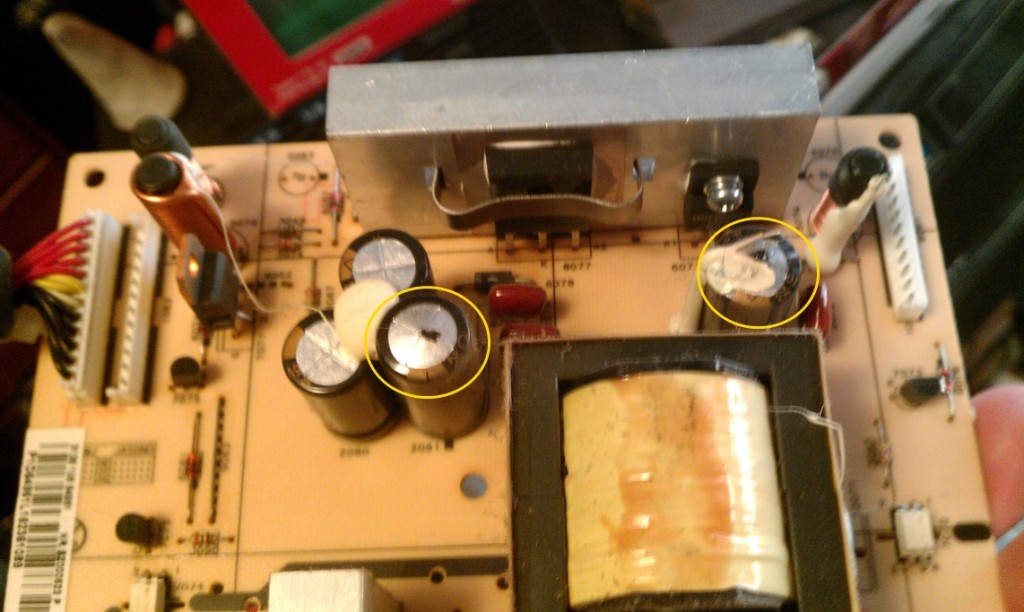 and this is the nice new ones ready to not explode.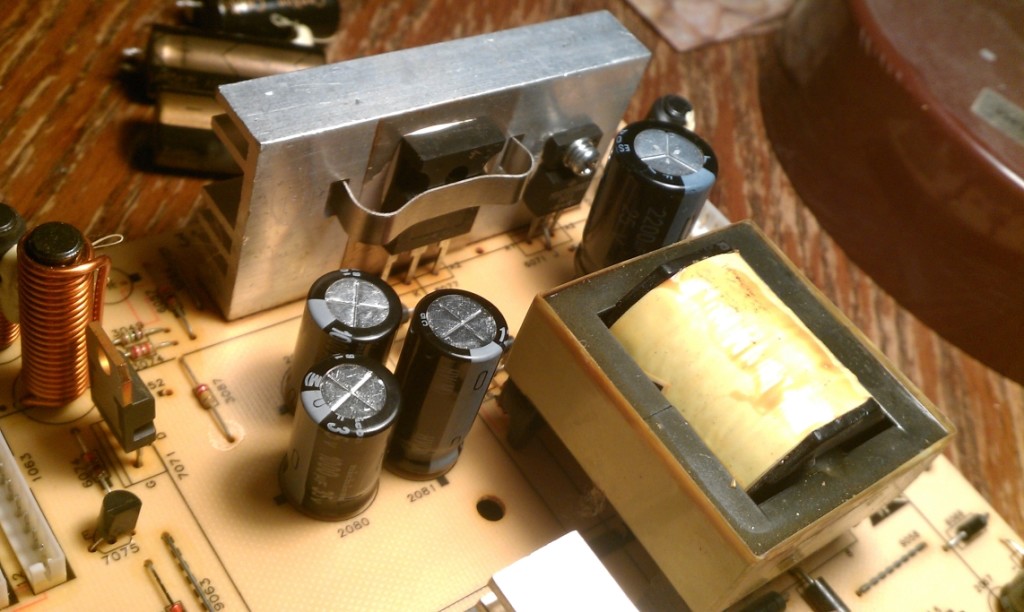 I got Nichicon for the smaller ones; I don't remember what the larger one is but hopefully it's long-lasting as well.
You need one 1200µf 35v, one 2200µf 25v, and two 1000µf 35v caps, all should be high temp (125°C). And of course, you can use higher-voltage caps if necessary. Try to get a good brand and not something gross like CapXon. Whoever they are.
Rather than go the route of buying new labels for all my TG16 games, I decided to simply craft my own end label for Air Zonk, since it didn't come in a jewel case originally. Therefore, I decided I could use a bit of freedom in designing it instead of adhering to the official label designs. Here it is in case anyone wants to print and use it themselves. Proper dimensions are 2.5cmx11.9cm.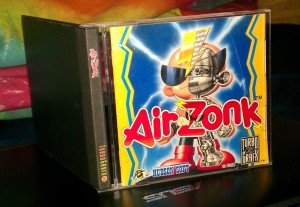 Not bad for homemade, I'd say.